Tongue tie, technically known as ankyloglossia, is a condition present at birth that affects an estimated 2-5% of all babies born. It is characterized by a short, thickened, or abnormally tight lingual frenulum, which is the tissue that connects the tongue to the floor of the mouth. Depending on the severity of the tongue tie, range of motion of the tongue can be restricted. In very severe cases, the tip of the tongue can appear to be heart shaped. Because of this anatomical difference, sometimes tongue tied babies can't maintain a latch for long enough to take in a full feeding. Others may appear to breastfeed for long periods of time without actually be effectively transferring milk. Some tongue tied babies will successfully breastfeed only during "let-down", when the milk flows on its own from the breast into the babies' mouths, but won't be able to actively express milk out of the breast on their own. Many babies with tongue tie also have a lip tie, an abnormally tight membrane attaching their upper lip to their upper gums. This can be seen by rolling the upper lip upward. Babies with lip tie often have difficulty flanging their lips properly to feed which impacts their ability to latch well. This can cause them to take in excess air during breastfeeding which often makes these babies gassy and fussy.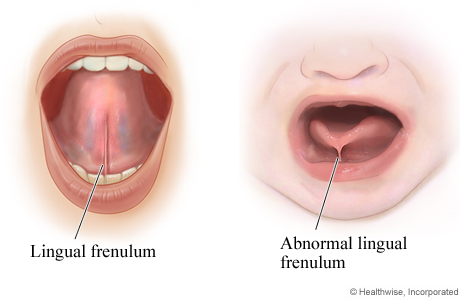 While many pediatricians do not see tongue tie as an issue, current research and literature suggests that it can have a significant impact on breastfeeding. However, the American Academy of Pediatrics, among others, have documented the negative effects of tongue tie on breastfeeding. The most common complaint of mothers with tongue tied babies is sore nipples, which is due to poor latch and inefficient sucking. Other breastfeeding problems for the mother can include recurrent plugged ducts, mastitis or thrush, vasospasm, and supply difficulties. Babies with tongue ties typically have difficulty latching, make click sounds while nursing, may be gassy and fussy during feedings, and have slow weight gain despite having mothers who use correct positioning and nurse frequently.
Some babies with very short or thick lingual frenulums are able to compensate well and breastfeed without difficulty. Tongue tie needs to be diagnosed by function and not just appearance, so what the baby's tongue looks like is not as important than what it can do. According to one study, simple inspection of a tongue-tie is not enough to determine which infants will need medical intervention. However skilled professionals will complete a clinical assessment which includes observation and measurement of the effectiveness of feeding to help determine appropriate action to improve breastfeeding skills. This is not a comprehensive list for tongue function, but it may give you an idea for why your baby is having breastfeeding difficulties:
Does the tongue elevate? When the baby cries the front edge of the tongue should come up at least as high as the corners of the baby's mouth.
Does the tongue extend? The baby's tongue should be able to protrude or stick out at least past the lower gum  if not to the border of the lower lip
Does the tongue lateralize, or move side to side? Tracing the baby's bottom gums triggers a reflex for the tongue to follow the finger..
The baby's tongue should be able to lift towards the roof of the mouth and touch behind where the upper teeth will come in. Is there a membrane there that prevents the tongue from lifting? When very tight from tension, the membrane may appear white.
If it is determined that the tongue tie is indeed the culprit for breastfeeding difficulties, some pediatricians, ENTs and dentists can perform a frenotomy or frenectomy. This is a quick procedure to cut the frenulum which returns the full range of motion of the tongue and upper lip. Specialized scissors may be use to simply cut the tongue or lip tie. Some prefer to use lasers, which have the benefit of minimizing the amount of bleeding during and after the procedure and decrease the chance that the frenulum will grow back. Many practitioners use a local topical anesthetic to numb the area before the procedure and some use an injection of anesthetic as well. Babies can breastfeed as soon as the procedure is done. Post-procedure care should be done to minimize the frenulum from growing back. Current research shows this is a safe, easy procedure with minimal risk to the baby. The majority of mothers notice an immediate difference in breastfeeding effectiveness and a significant reduction in nipple pain.
When should the frenotomy be done? Current research shown between 2-6 days after birth to establish proper breastfeeding patterns. This same study showed that waiting more than four weeks for frenotomy drastically increased the likelihood that mothers would abandon breastfeeding all together.
If you suspect your baby has a tongue or lip tie, set up a consultation for a full assessment of your baby's oral motor skills.
For more resources and articles, see Breastfeeding a Baby with Tongue-Tie or Lip-Tie at kellymom.com
Lalakea, M. Lauren; Messner, Anna H. (2002). "Frenotomy and frenuloplasty: If, when, and how".

Operative Techniques in Otolaryngology-Head and Neck Surgery

.

13

: 93.

doi

:

10.1053/otot.2002.32157

.

 

Wallace, Helen; Clarke, Susan (2006). "Tongue tie division in infants with breast feeding difficulties".

International journal of pediatric otorhinolaryngology

.

70

(7): 1257–61.

doi

:

10.1016/j.ijporl.2006.01.004

.

PMID

 

16527363

.

 Emond A1, Ingram J, Johnson D, Blair P, Whitelaw A, Copeland M, Sutcliffe A. "Randomized controlled trial of early frenotomy in breastfed infants with mild to moderate tongue-tie." Arch Dis Child Fetal Neonatal Ed. 2014 May;99(3):F189-95.
Jack Donati-Bourne, Zainab Batool, Charles Hendrickse, Douglas Bowley "Tongue-Tie Assessment and Division: A Time-Critical Intervention to Optimise Breastfeeding/" Journal of Neonatal Surgery 2015; 4(1):3

 Jain E. Tongue-tie: its impact on breastfeeding.

AARN News Lett.

1995

;

51

:

18

Huggins K. Ankyloglossia: one lactation consultant's personal experience.

J Hum Lact.

1990

;

6

:

123

– 124
Messner, Anna H.; Lalakea, M. Lauren; Aby, Janelle; Macmahon, James; Bair, Ellen (2000). "Ankyloglossia: Incidence and associated feeding difficulties". Archives of otolaryngology—head & neck surgery. 126 (1): 36–9.

doi

:

10.1001/archotol.126.1.36

.

PMID

 

10628708

.

 

Tongue Tie – What Do Parents Need To Know? Submitted by

jessicabarton

on

 Rosegger H, Rollett HR, Arrunategui M. [Routine examination of the mature newborn infant. Incidence of frequent "minor findings"].

Wien Klin Wochenschr.

1990

;

102

:

294

– 299