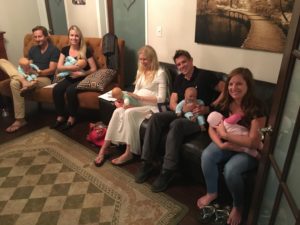 Whether you prefer to learn in a group or in a personalized, private session, this class covers topics such as anatomy of the breast, the first latch at birth, nursing positions, breast milk production, what to expect during breastfeeding, latching techniques, how to know if your baby is getting enough milk, sore nipples, optimizing milk production, choosing a pump, what to do when things go wrong, and milk storage. We cover every essential topic for getting you ready to feel empowered to feed your baby in an interactive, engaging way with lots of videos and hands on practice. Classes are approximately 2 hours and include hands on practice with newborn sized baby dolls.
Community prenatal breastfeeding class is held once a month in Silver Lake at Gracefull Birthing.
Community prenatal breastfeeding class is held the first Tuesday of every month in Beverly Hills at Natural Birth Center and Women's Wellness and the cost is $30 per person. Please text or call 616-822-1812 or email lalactation@gmail.com to reserve your spot.
Private, individualized classes can also be held in your home or place of choice for $125. There may be an additional travel fee depending on your distance from my practice. Strict confidentiality for celebrity and high profile families who also desire private classes in the home.
Doula and lactation students are welcome to attend any community class. Please contact me directly to discuss which class you would like to attend as there is a limit to the number of students that may attend each class.