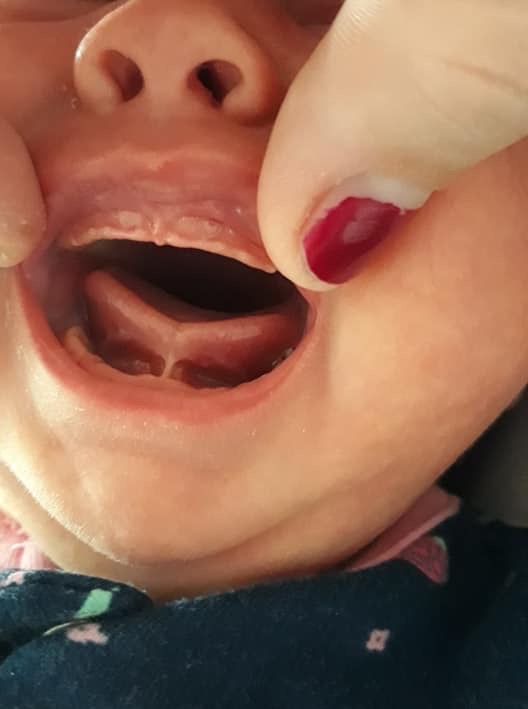 As an SLP/IBCLC, I look at three things when doing an assessment on infants: what does the tongue look like, what can the tongue do, what symptoms is it causing. The tongue needs full range of motion (in and out, side to side, and up and down ) for feeding, dental hygiene and to some extent speech. You can have a frenulum can still have good range of motion. A frenulum is considered tied when the tongue can't move in all directions and it's causing symptoms because it's not functioning correctly.
Symptoms to watch out for are:
👅Can not grasp and hold a nipple for breast or bottle feeding
👅Pops on and off the breast/unable to latch or maintain the latch
👅Leaks milk from breast or bottle
👅Fatigues easily from tension on the tongue and jaw/"sleepy" at the breast
👅Wants to feed all the time and never seems satisfied
👅Causes nipple pain and damage when latched
👅Pinches the nipple when feeding causing recurrent plugged ducts and mastitis
👅Doesn't empty the breast well causing low milk supply
👅Tongue constantly in a "stimulation" mode instead of efficient sucking at the breast, causing an over supply of milk with fast let down
👅Cannot create the vacuum needed to draw breast milk and makes a clicking or loss of suction sound at the breast
👅Poor weight gain
👅Chokes and gags during feeding
👅Fussy at the breast
👅Swallows air while feeding causing reflux, gassiness or colic
When range of motion is restricted, or is causing symptoms, I will refer to a pediatric dentist who also looks at how the frenulum is impacting structure: is it pulling on the structures of the floor of the mouth and the jaw? Is it putting tension on the bone? In those cases, when function is restricted and it is currently causing symptoms, a revision is warranted. I never recommend revision to avoid symptoms down the road. It's not ethical.