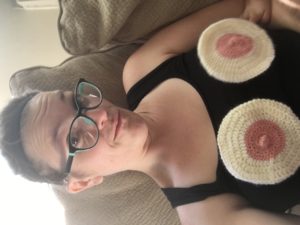 Let's talk honestly about nipples for a minute. Most basic breast-feeding classes talk about anatomy of the breast. They may touch briefly on anatomy of the nipple, but I don't feel like it's enough for us to fully understand the amazingness that is our nipples. In the anatomy of women, a nipple, mammary papilla or teat is a small projection of skin containing the outlets for 4-18 lactiferous ducts. The average woman has 9 of these ducts. They come in all shapes and sizes, but the average projection and size of human female nipples is slightly more than 3/8 of an inch (10mm) or the equivalent of about 5 stacked American quarters. Pregnancy and nursing tend to increase nipple size, sometimes permanently. Nipples are made of erection tissue.
They are actually made of the same erection tissue as the penis. It is why when these are stimulated by either a sexual partner or a baby, they perked up or erect. When nipples are stimulated, they send messages to the brain to release oxytocin, the cuddle hormone. This hormone is what makes you to feel all tingly, warm, secure, and in love with your spouse. But oxytocin released during breastfeeding is actually what causes your letdown reflex to happen. It's basically what causes your milk to flow. As your newborn is stimulating your nipple, it sends a message to the brain "hey there's a baby here! Send milk!" The brain then releases oxytocin which causes your letdown reflex to happen. It's while your let down happens usually 1 to 2 minutes after your baby starts suckling at the breast. Erection tissue is never meant to bleed, crack, or scab.
Could you ever picture your husband letting you touch his penis if there was cracking, bleeding, or scabbing? And yet when new moms breast-feed, there is the stereotype that this is just a normal part of the breast-feeding process. Cracked, bleeding, and scabs nipples are caused by an incorrect latch of the baby or some other anatomical or physiological difference, such as a tongue or lip tie or an immature sucking pattern. Nipples were never designed to endure what so many women tolerate as "normal". If you are experiencing any pain, cracking, or bleeding of your nipples during breast-feeding, please see me or another lactation consultant in your area as soon as possible. Let us help you correct the latch or look for a tongue tie that would be causing those problems. You deserve a pain-free, happy nipple breast-feeding story! Please also help stop the stereotype that it is OK for women to endure this. It is totally OK to experience initial discomfort when breast-feeding. Your nipples are not used to that kind of sensation at that frequency. But pinching or stabbing pain is never normal at any stage of breastfeeding.