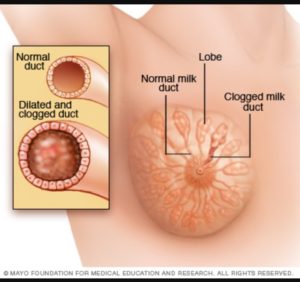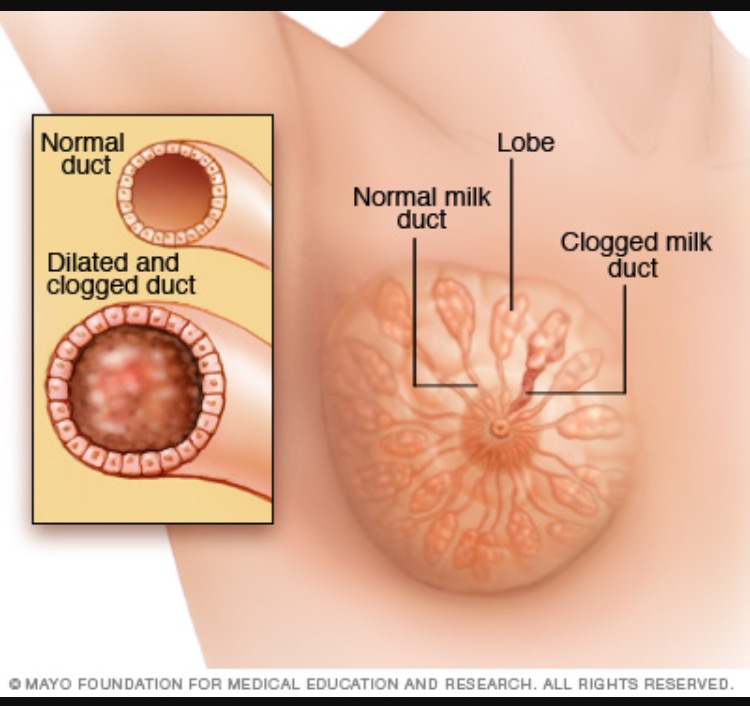 Clogged milk ducts are no fun. My ducts clogged several times when I started nursing. With immediate action, I was able to clear the duct in a few hours and nursing returned to normal.
These are signs that you might have a clogged duct:
a small, hard lump that's sore to the touch or a very tender spot in your breast.
redness.
a hot sensation or swelling that may feel better after nursing.
If this sounds like you, YOU NEED TO UNCLOG THAT DUCT. If left untreated, clogged ducts can turn in to mastitis.
Here are several strategies that worked well for me:
-Hot showers or hot compresses (hot washcloth or heating pad over the lump) before nursing (or plank over a bowl of hot water or hot bath or hot towel etc)
-Nurse on demand starting on the affected side.
-NURSE LIKE A COW. Lean over baby on your knees and forearms and let gravity help.
-After nursing, hand-express that boob! Start at your ribcage and squeeze/massage over that duct toward the nipple like you're trying to squeeze that last bit of veggie pouch out the tip. It can hurt, If you don't do it, the doctor or lactation consultant will, and it will still hurt like heck. But you can at least feel where it is and when to stop.
-The clogged milk is SALTY and that's why babe might start to refuse it. Once you find the salty spot, "milk" yourself that way till the salty stuff empties.
Repeat this process each feeding until the lump goes away or you feel it release and your milk flow return to normal. If it doesn't go away in a day or two, seek professional help to avoid it turning into an infection.