DON'T FALL FOR THE MARKETING
There are lots of bottles on the market. And so many of them are marketed to be "most like the breast". Let me tell you a secret. There is no bottle that works like the breast. Don't fall for the marketing. The breast is a complex organ that works with hormones, compression, suction, positive and negative pressure. It is controlled by the baby and how the baby sucks. Baby can make your milk flow or not depending on how they suck. It is never empty and constantly making more. It is hormone driven. A bottle is passive. It has a hole that will drip when turned over. Your nipple changes shape to fill baby's mouth. Your nipple can help fill a high palate. your nipple and a good portion of your areola/breast also need to be in baby's mouth in a deep latch for milk to be transferred. Your nipple should go in round and come out round. Baby's tongue should cup and protrude past the lower gums and stay out to massage your nipple/breast in their mouth Baby has to change the shape of their tongue to accommodate the firm bottle nipple. Baby can chomp or mash the nipple and doesn't need to keep the tongue out because they can compress milk out. Baby can also latch just to the tip of the bottle nipple and still get milk.
We can make the bottle work like the breast, though. By slowing the feeding down or "pacing" the feeding, we can help baby go back and forth between bottle and breast. You want a straight nipple that tapers wide at the base for a "deep" latch. If your baby is just latched to the tip of a bottle nipple they can still get milk. But then their muscles will learn to latch shallow and that's often why you'll get a shallow latch with a "small" mouth at the breast. The bottle nipples that are already pinched or tapered are also not good choices. If your nipple came out of baby's mouth looking like, that you'd have damage within a few days. If your baby struggled at the breast and will only take a bottle nipple that looks flat and pinched there is usually something going on in baby's mouth and the bottle nipple is compensating for it. Tongue tie is the most common culprit.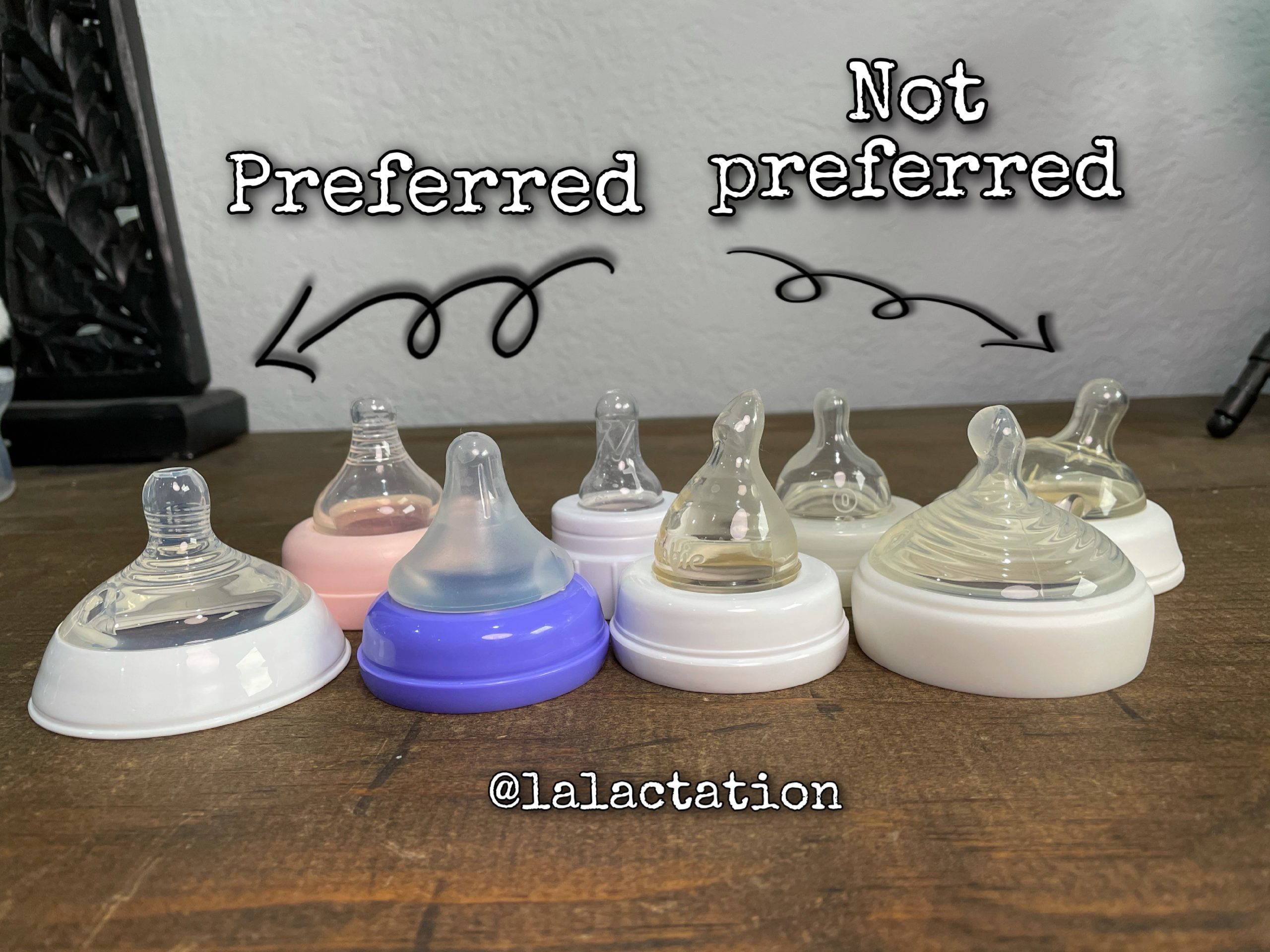 LATCHING TO A BOTTLE
Having an optimal latch at the breast reduces nipple pain and prevents damage. Your nipple should go in baby's mouth round and come out round. If we want to encourage good latch when breastfeeding, we want to do the same when bottle feeding. This helps baby go back and forth without "confusion".
This can be difficult when a bottle nipple abruptly changes in shape from narrow to wide. Bottle nipples like the Playtex Baby Ventaire Bottle,Tommee Tippee, Avent Natural, Nuby Comfort, and Chicco Naturalfit have narrow nipple tips and wide bases. Babies usually end up latching onto the tip and sucking it like a straw. If baby's cheeks dimple or suck in when feeding from these bottles, they're drinking but not demonstrating a wide latch and optimal mouth posture. If they had that same mouth posture on your nipple, they would cause pain and damage. Baby's don't drink from the breast like a straw. Conversely, they may try to fit the base of the nipple in their mouth and end up with air pockets where the tip meets the base. This can result in breaking the suction and swallowing excess air while feeding. Nipples like the Nuk Simply Natural and Mam are not round, but pinched or flat. If your nipple looked like that coming out of baby's mouth we'd be talking about deeper latch or tongue tie.
Bottle nipples that gradually change in shape from narrow at the tip to wider at the base promote a deeper latch. If the nipple stays narrow at the base, like the Similac nipples many hospitals give at birth for supplementing, you'll want baby's lips to be able to come up almost to the collar (plastic o-ring base). If the nipple is sloped to gradually widen at the base, baby will be able to get the nipple deeper into their mouth with no air pockets. My favorite sloped nipples include the Pigeon SS Nipple, Lansinoh, Dr Brown's Original Narrow, Dr Brown's Wide Neck, Munchkin Latch, and Evenflo Balance, which promote a deeper latch mouth on the nipple.
So what does this mean?! If your baby is already bottle feeding and going back and forth from bottle to breast, don't sweat it! No need to change anything! If your baby is struggling at the breast and preferring a narrower or non-round nipple, having a full oral motor assessment may help you get back to breast.